During the early phase of life, infants have a need for human milk and breastfeeding which naturally fulfils the specific needs for healthy growth and development. When an infant is breastfed, the digestive and immune system and the gut microbiota can mature in the most natural way.1
The major components of human milk are carbohydrates, followed by fat and proteins.2,3 The carbohydrates in human milk consist of lactose and human milk oligosaccharides (hMOS). More information about the major components carbohydrates, fat and proteins can be found in the infographics below.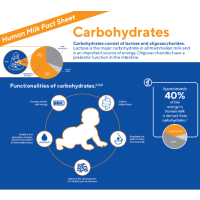 Infographic: carbohydrates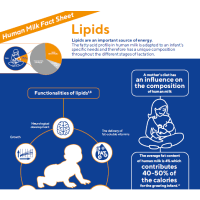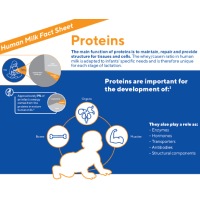 Human milk not only provides the macro- and micronutrients needed for the infant's physical growth, but it also provides functional compounds which play a role in the maturation of the digestive and immune system and the gut microbiota of the infant.4 Human milk is recommended as the sole source of nutrition during the first 6 months of life, to ensure proper growth and development of infants.
Even though the digestive system is still immature during the first months after birth, human milk is easily digested by infants, resulting in feelings of comfort for both mother and child. Human milk is one of the first external factors establishing a well-balanced gut microbiota which is crucial for the maturation of the immune and digestive system.5,6 However, breastfed infants also experience discomfort, such as natural hiccups, and is considered to be a natural phenomenon in early life.7-9
Human milk has short-term and long-term health benefits for infants. Therefore, the World Health Organization (WHO) recommends breastfeeding exclusively for the first six months, with continued breastfeeding along with appropriate complementary foods for two years and beyond.10
Human milk is the best sole source of nutrition during the first 6 months of life and fulfils the specific needs of infants who are growing and developing. Human milk supports the maturation of the digestive and immune system and the gut microbiota in a healthy way.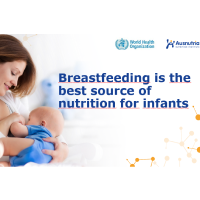 1. Neu, J., Gastrointestinal maturation and implications for infant feeding. Early Hum Dev, 2007. 83(12): p. 767-75.
2. Lawrence, R.A. and R.M. Lawrence, Breastfeeding: a guide for the medical profession. 2011: Elsevier Health Sciences.
3. Zivkovic, A.M., et al., Human milk glycobiome and its impact on the infant gastrointestinal microbiota. Proc Natl Acad Sci U S A, 2011. 108 Suppl 1: p. 4653-8.
4. Hamosh, M., Digestion in the newborn. Clin Perinatol, 1996. 23(2): p. 191-209.
5. Wopereis, H., et al., The first thousand days – intestinal microbiology of early life: establishing a symbiosis. Pediatr Allergy Immunol, 2014. 25(5): p. 428-38.
6. Scholtens, P.A., et al., The early settlers: intestinal microbiology in early life. Annu Rev Food Sci Technol, 2012. 3: p. 425-47.
7. Vandenplas, Y., Algorithms for Common Gastrointestinal Disorders. J Pediatr Gastroenterol Nutr, 2016. 63 Suppl 1: p. S38-40.
8. Bellaiche, M., et al., Multiple functional gastrointestinal disorders are frequent in formula-fed infants and decrease their quality of life. Acta Paediatr, 2018. 107(7): p. 1276-1282.
9. Iacono, G., et al., Gastrointestinal symptoms in infancy: a population-based prospective study. Dig Liver Dis, 2005. 37(6): p. 432-8.
10. WHO, Promoting approprite feeding for infants and young children. Global strategy for infant and young children feeding, 2003: p. 7-8.